AUKTION:NG - Für Auktionator, Versteigerer, Marktplatzb

Jetzt im Jahres Bundle abonnieren und sparen
Auktion:NG - Auction software script written in php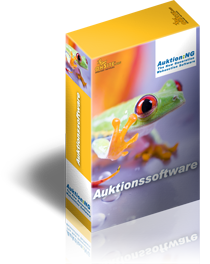 Auction: NG - The professional auction software in php / mysql
Welcome to the online demo. The following items are not for sale, nor is it an offer within the meaning of the German TMG.
This platform is used to illustrate possible auction forms and functions and is reset at least 1x a day. Text changes on the home page in the admin area of the point: MiniCMS.
In der DEMO Installation werden folgende, optionale Zusatzmodule verwendet: (ggf. Aufpreispflichtig)
Artikel Detail Zusatzfelder, Preis vorschlagen für Käufer, Artikel Gesuche, Warenkorb, Auktionskatalog Modul, Online Shop Importer, Aufgeldmodul, PDF Exposee.
TIPP: Besuchen Sie die Dokumentation zur Auktionssoftware, dort speziell: Eigene online Auktion im Schnellstart